Back to the buzz
BAM! Welcome to the era of meaningful marketing
11 December 2019
Last week, more than 1.000 marketing, sales & communication professionals gathered in Brussels to focus on "Meaningful Marketing", a flagship event by the Belgian Association of Marketing – BAM. I had the wonderful opportunity to join the conversation. Looking back at these deep-dive sessions on the challenges modern marketers face, I've distilled two main takeaways.
1. Meaningful marketing: yay or nay?
While not a new term, "purpose-driven" has become increasingly popular these days. It's hard to open a marketing publication or website without encountering the latest hot take on "Brand Purpose". And depending on who's speaking it's either the future of marketing and the industry needs to get more purpose-driven or it's another meaningless hype that gets in the way of marketing effectiveness. So which is it?
Yay
During BAM, loads of arguments were made on the fact that marketing has finally moved from generating sales and revenue, to creating value for consumers. Consumer expectations are forcing brands to go beyond pure functional benefits. Instead, consumers expect organisations to demonstrate a purpose, a meaningful connection beyond profit-making. This meaningful connection happens when brands approach their consumers as friends or even better soldiers.
" A soldier is a consumer that uses your brand to become a better version of him-or herself" Ann Maes
This army of soldiers can help to activate and share the purpose of your brand – and help you flourish. Zooming on how purpose-driven organisations are doing, resulting in the need for a framework to map these efforts. Herman Toch presented a scale to map profit and non-profit companies and the in-between segments that recently arose. I feel it makes great sense for every company to map where they are, and where they want to be.

Nay
But what's the point of is this purpose-driven trend? In a time where closing a gap between the CFO and the CMO is harder than ever, marketing success is still very much evaluated on financial KPIs and not purpose.
Ronald Marlen takes a different position and argues that Brand Purpose is the 'fake news' of the moment, a marketing attempt to tell people they need something that doesn't make any sense.
"We have found out now that we don't miss a thing if companies stop selling their stuff. So, don't try to bring purpose to something that doesn't have any."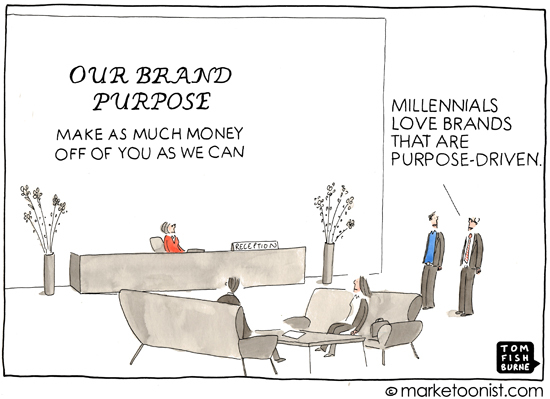 My take?
Honestly, I go back and forth on this. There are moments when I agree with the believers of the world that brand purpose is part of the solution. Other times the cynical marketing person comes out and I feel like this is just another bullshit trend that results in short term 'purpose-style' campaigns.
2. Good the hear: Insights and data are still at the heart of meaningful marketing
It looks like we're all searching for the Holy Grail, but we all have different ways of finding it. I was happy to conclude all speakers had one takeout in common - insights are still at the heart of all we (should) do. Great, that's where we come in.
This need for data is very much linked to the fact that brands are in deep transformation. D'Ieteren explained how they kickstart this amazing journey of shifting from "automotive #1 player" to the "natural choice for Belgian Mobility" - by being insight-driven. KBC demonstrated that they didn't create a new banking app. Instead, they created a purchase platform allowing so much more than just pure financial services, again placing the consumer need first. This exploration of new territories and consumer needs calls for profound guidance and I was happy to hear they still want to lean on strategic partners for this.
If we are looking for meaning, it makes great sense to take a stand on where you want to be on the purpose scale. And we will help you connect with consumers to ensure your values and actions can have a real impact.