When the magic happens
Combining CX & Brand Promise
2 min read - By Stefan Peters, Strategic Growth Enabler at Haystack Consulting
Making sense of the customer journey

These days it's all about customer experience. Wherever they go, customers are invited to confirm their emotions with a smiley, rate their satisfaction in the Customer Effort Score or demonstrate their willingness to recommend a company in the Net Promotor Score. As a result, today's marketeers often spend precious time cheering up the dissatisfied and trying to make every moment a magnificent one – an almost impossible task. However, smileys and ratings are only the end of a long and fragmented journey.

True customer experience is more complex and relates to a wide variety of touchpoints between both the customer and brand or organisation, whether cognitive, emotional, sensory, social or spiritual. Not only that, research demonstrates that it is simpler and more rewarding to turn a satisfied customer into an ambassador than successfully convert a dissatisfied customer. So, in Haystack's opinion, it's time to make sense of the entire experience, choose your battles and be selective in the moments that matter.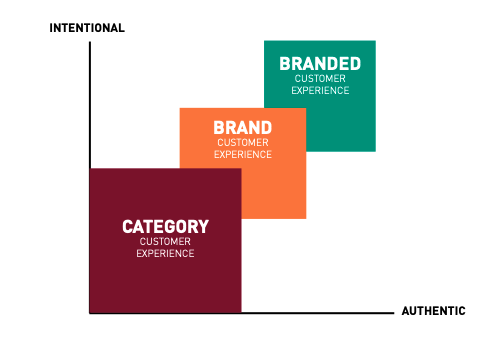 The future lies in going back to your roots
What companies are often losing sight of in their frenzied focus on the customer journey? The brand! There is much devotion to the customer, but the brand perspective is being forgotten.


A branded customer experience is where the brand's essence, promise, values, and all that it stands for, come alive through its customer experience. Combine both the brand and the consumer perspective within your framework, and the experience itself becomes unique and recognisable – and therefore a valuable source of competitive differentiation.
We go into detail in our whitepaper. Read it and discover...
why starting with your brand is a way to rise above the rest
about being Memorable, Meaningful & Multisensorial
a quick win by focusing on the positive
Download our CX + Brand Promise Whitepaper
Leave your details to receive the pdf in your inbox