Back to the buzz
How can I win against private labels with Sensory Branding?
16 November 2022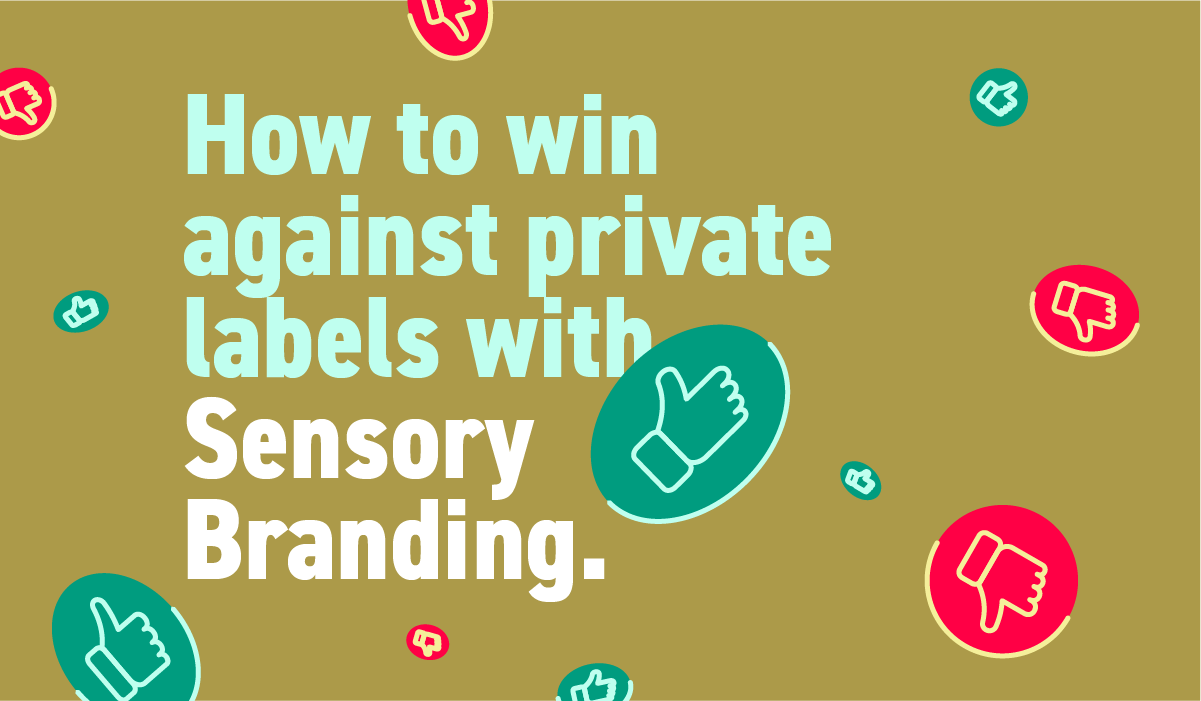 An A-brand client of mine recently asked a very interesting question:
"How can I win against private labels with Sensory Branding?"
Immediately, my mind started to formulate a response. But before we get there, we should probably take a few steps back. And discuss private labels.
Let's talk labels
The term 'private label' has always given me the creeps. Coming from the client-side, I often needed to convince my A-brand marketers that there is no such thing as a private label. But there are brands that are endorsed with the name of a major retail chain. Many of these brands have plenty of presence Above The Line, even more so than A-brands.
So yes, I find the term 'private label' outdated and incorrect: it's no longer "private" when retail brand(s) have higher shares than 50% of the category (source: Nielsen/IRI). Consumers are also attracted to them: they are often cheaper and just as good. Depending on the sub-brand, they could even be more progressive and sustainable than A-brands.
Houston, A-brands have a problem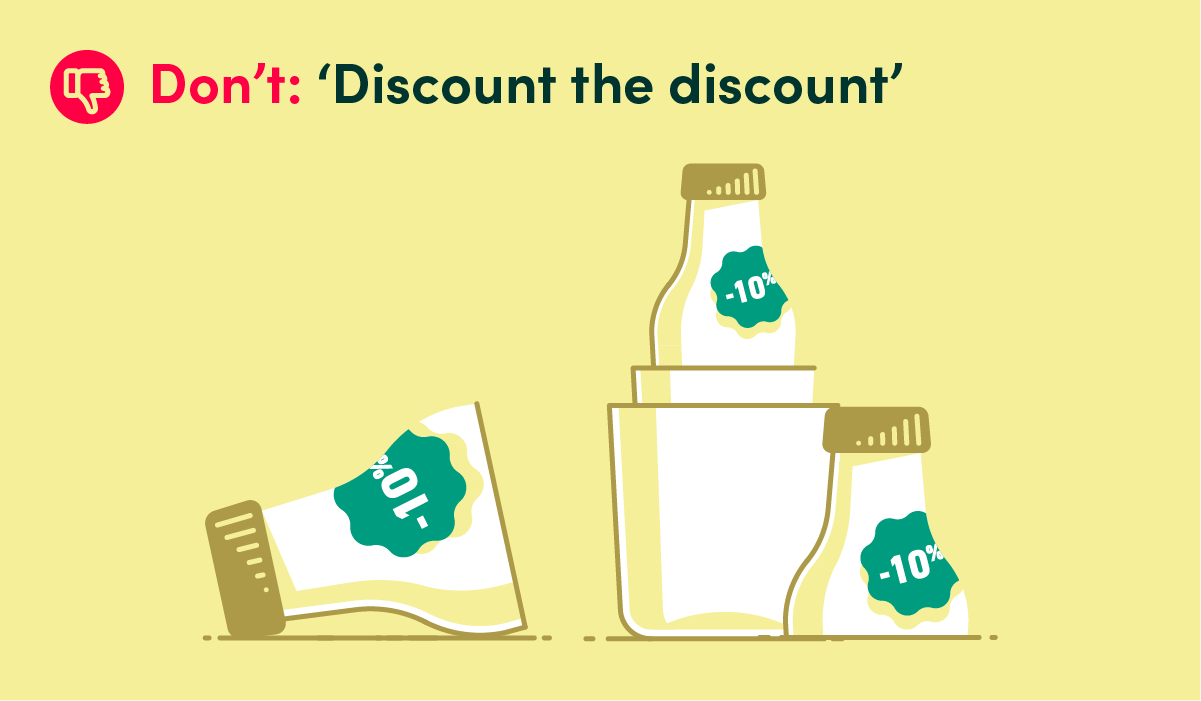 As A-brands attempt to increase their profits year after year, the price gap with private labels becomes so big that consumers start to look elsewhere. When A-brands start to notice, they turn on the promo levers, leaving consumers confused ("Strange, last week I had to pay a premium for it!").
When these promos are done structurally, they become like a drug. With every shot, consumers crave a lower price. This proven mechanism is called 'discount the discount' (evidenced by Koen Pauwels, Sunil Gupta and Lee Cooper) and is very dangerous for A-brands.
Retailers have become adept at not wasting a good crisis. After each crisis, they come out as winners, besting A-brands with higher shares."
At the same time, A-brands are not to blame. Retailer brands have learned to segment the category. In food, for example, they offer their regular brand, their 'best offer' brand, an Excellence line and often an organic/bio brand as well. Undermining and attacking the A-brand's share from all sides. Instead of 1 retailer competitor, there are now 3, each one grabbing the consumer's attention. Some of them are so well-designed, that ordinary consumers perceive them as A-brands.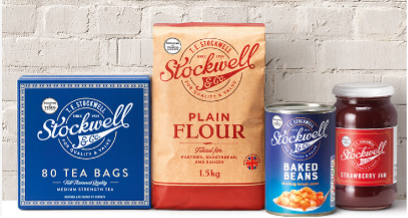 Stockwell, a retailer brand (!) from Tesco
A-brands need to bring their A-game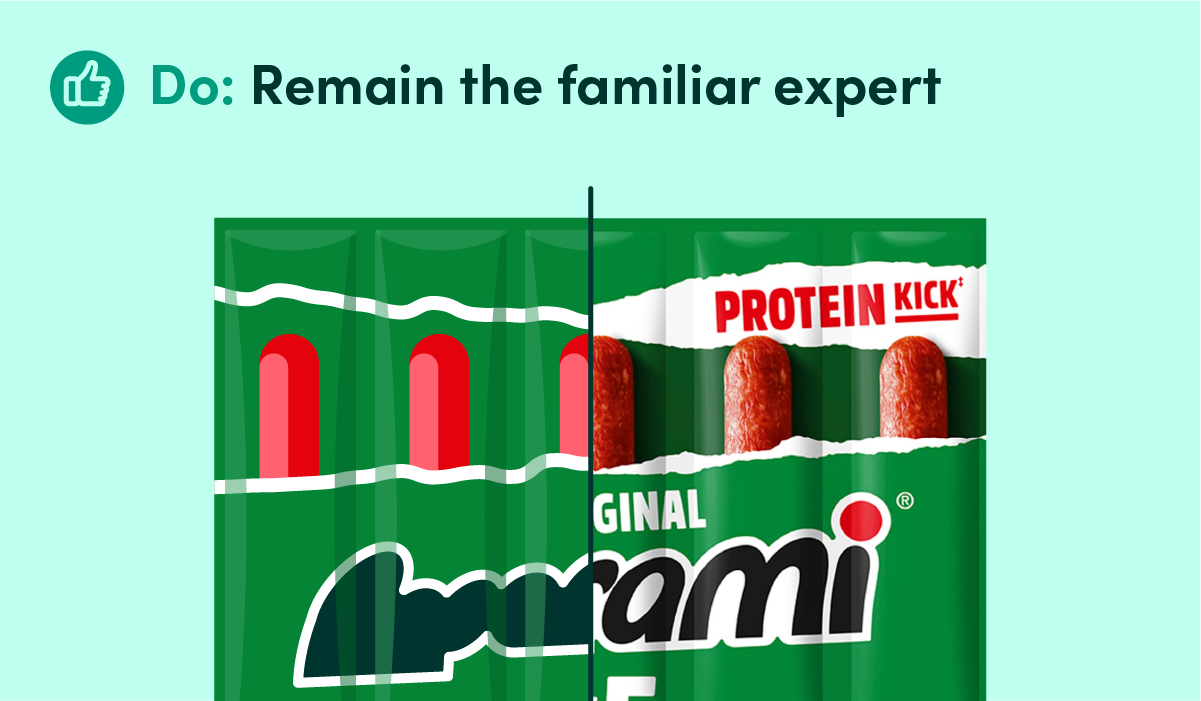 Retail brands don't only profit from the bad times, they usually maintain higher shares in good times. The game is on for A-brands, especially for A-brands that don't act. Which brings us to the client's question: "How can I win against private labels with Sensory Branding?"
Consistent sensory branding has pivotal advantages. The senses are a strong heuristic (or shortcut) for category association and brand selection. If the A-brand doesn't consistently increase the price gap, retail brands will struggle to best it, as the A-brand remains the familiar expert. Retailer brands can't change perception overnight. This doesn't mean that consumers are loyal. Loyalty doesn't exist, as A-brands need to continue to fight for consumers to notice them.
Through distinct sensorial assets such as colour, graphical pack elements and a pack's shape or tactility, A-brands have created mental availability towards certain selection criteria. For instance: when a consumer is feeling hungry and they desire instant fulfilment, a string of associations will emerge: a green/black colour, several in a pack and settles any crave? Yes, it's Peperami! The sensory codes will prevail even over the name. Which makes distinct sensorial assets so important, especially for A-brands.
Weathering a crisis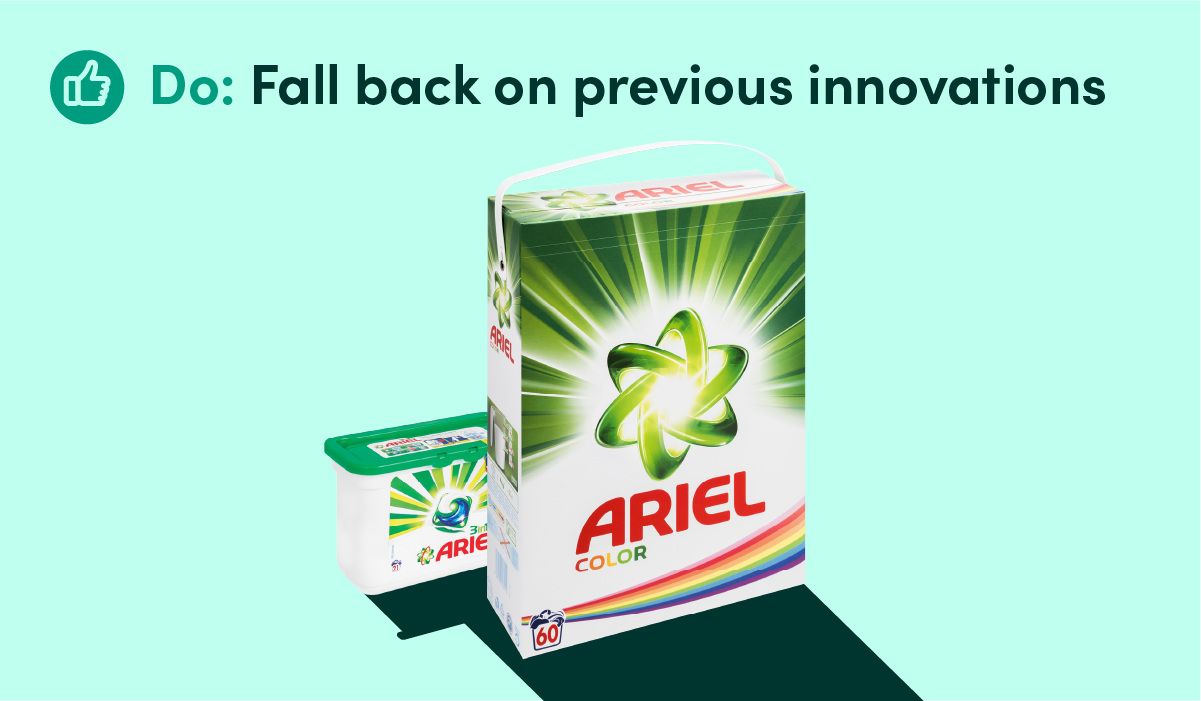 What can A-brands do during a crisis? They can fall back on previous innovations, which have a higher value for money association. During the upcoming recession, Ariel will once again make washing powder detergent more mentally and physically available to us, whilst leveraging their Brand Distinct Assets to the max. Good value will be suggested implicitly (through the pack size and its weight) and explicitly in the wording.
During a crisis, it's smart to emphasize what your brand is known for and build adjacent associations to grow the amount of category entry points the A-brand is known for, increasing your share as a result. Keeping the Brand Distinct Assets clearly visible at all times.
Coca-Cola's mini format is a great example, increasing brand salience for the master brand while establishing a new category entry point: 'I want a shot of Coca-Cola, that's enough for me.' The result? Increased brand relevance and sales. It's true, a retailer brand can copy this in time, but it won't be overnight.

One more thing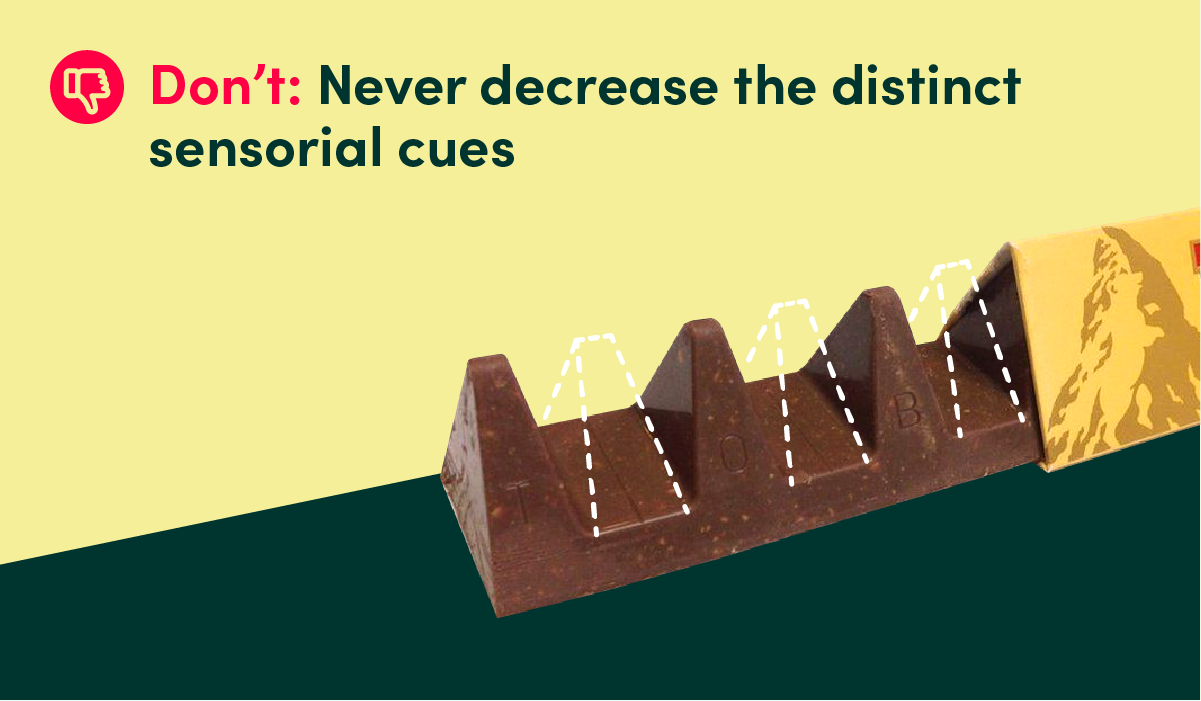 There is one last advantage of consistent sensory-first brands. A lot of detail goes into creating the multisensorial experience. Everything is congruent and all details matter, even if it doesn't show in quick&dirty tests. Don't ever decrease the distinct sensorial cues unless you absolutely have to (and I'm talking back-against-the-wall-no-other-option necessity). The strongest marketers and their brands understand this. Don't make the same naive decision that Toblerone made in 2016, reducing the amount of Matterhorns in their chocolate bar to reduce the cost (source: Financial Times). Of course, consumers got angry and Mondelez had to return to the old (now current) bar.
All strong, smart marketers maintain the current distinct sensorial assets but place them in a refreshing new context as the world is so dynamic. There are a lot of possible refreshing new contexts to leverage. So be bold, creative and sensorially consistent and you'll come out better than before! This is a perfect moment for you as a marketer to investigate your Brand Distinctive Assets, their sensorial aspects and cohesion. Haystack Consulting helps companies leverage their distinct sensorial assets.
Want to know more? Don't hesitate to get in touch with one of our experts.