Finish First flips traditional ideation on its head
Test & Tweak the MVP at record speed
Instead of trying to understand the market and consumers, we focus on creating concepts from the very start, testing and reworking MVPs as soon as possible. We will start creation from the start, and test bold ideas with consumers.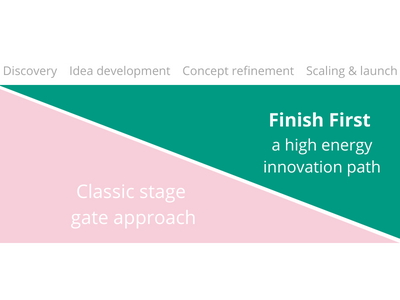 Fail fast. Learn faster.
We use real customer experiences to find the best solution to your problem. We connect with consumers through a multi sensory approach that engages their feelings, not their thoughts.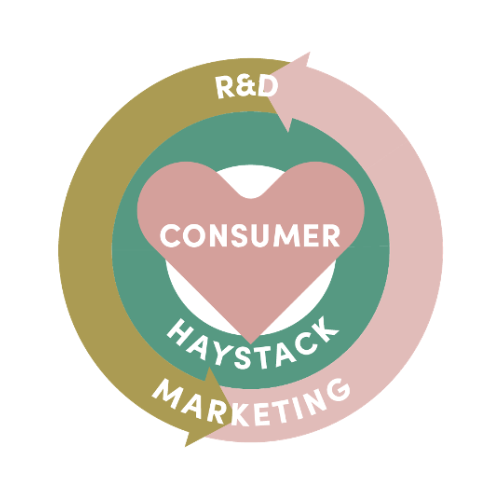 Finish First speeds up your innovation process
Co-creation of new products
Give your consumers a leading role in co-designing your next product or service. Use MVPs to create a realistic product experience. Discuss technical product specs, marketing, packaging and communication.
Shopper strategy & creation of planograms
We create a series of planograms based on existing insights and Haystack shopper expertise. A good starting point for refinement by consumers in an iterative research approach
(sustainable) Pack design challenges
We visualise more sustainable packaging alternatives making use of generative AI like MidJourney and Stable Diffusion. We use these as input for consumer pack creation sessions. Fast learning & iteration with packaging experts to challenge feasibility
Fast-track your time-to-market
It's all about testing and launching your MVPs at record speed. The faster you move, the faster you'll fail—and make the necessary adjustments for success.
Discover the truth about your consumers
Don't expect consumers to behave precisely the way you'd predict. People are emotional creatures who feel their way through the market.
Adopt a start-up mindset
Or, in short: a cross-departmental strategy, thorough research, and unparalleled adaptability.
Fail fast & learn faster
Iterative learning will guide you towards better-informed decisions. Who fails faster, learns faster—and that'll supply you with the insights needed to improve.
How we co-developed a new energy drink with HEINEKEN
FREE CASE STUDY DOWNLOAD
Testing bold ideas with a finish first approach.
Discover the challenge, story & result for Heineken.
From complete MVP to complete energy drink proposition.

Having a completely iterative and multi-faceted approach, focused on the consumer, the category and product enabled us to move with pace and ensure we got in front of consumers much quicker than most global NPD.